HR & Safety Programs
The goal of the USPOULTRY HR & Safety Program is to support the industry's HR & Safety efforts through technical services and education. Supporting a strong, safe, and healthy workforce is vital to maintaining a quality, wholesome food supply.
Safety & Health Award Programs
Overseen by USPOULTRY, the Joint Poultry Safety and Health Council sponsor the Joint Poultry Industry Safety Recognition Award Program for NCC, NTF, and USPOULTRY members. The program seeks to highlight employers continuously improving their safety performance through the establishment of sound safety and health programs at the facility level and recognizes those facilities that have achieved a high level of safety performance as part of a continuing effort to reduce occupational injury and illness.
The program also seeks to boost employee morale, reduce expenses associated with workplace injuries and illnesses, and enhance the poultry and egg industry's overall employee safety and health image.
2023 Joint Poultry Industry Award Program - Rules/Instructions & Application Documents
We are now accepting applications for the 2023 Joint Poultry Industry Safety Award. Deadline for submission: Friday, May 5, 2023.
Click the red PDF icon for a quick view of the rules and instructions. Click the blue ZIP icon to download the application documents in ZIP format.
Sampling of the 29 Joint Poultry Industry Safety Award Winners of 2021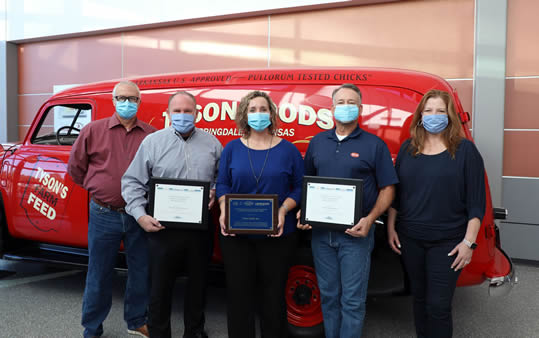 2021 Winner: Tyson Foods
Tom Brower (SVP Safety and Health); David Bray (Group President Poultry); Adrienne Allison (Safety Director - Poultry); Eddie Chancellor (VP McDonalds Division); Sandy Luckcuck (President Global McDonalds)

Contact Information
1530 Cooledge Road
Tucker, GA 30084-7303
Tel: 770.493.9401
Fax: 770.493.9257
General Info
Events & Meetings
People & Groups
Resources