Duck Council
The Duck Council is comprised of member companies that produce or process high quality duck and goose products. The Council guides USPOULTRY in providing assistance to establish best practices for industry-related issues such as, but not limited to, food safety, animal welfare, environmental stewardship and biosecurity.
The Council provides a unified voice to support the interest of the industry with respect to the regulatory environment. As needed, the Council may sponsor general research to support the expansion of duck and goose consumption and continued improvements in live production and processing technology.

Council Members
Chairman

, Scott Tucker, Maple Leaf Farms
Vice-chairman

, Doug Corwin, Crescent Duck Farm
Debbi Conzelmann, King Cole Ducks
Joe Falk, Fraser Valley Specialty Poultry
Drew Frey, Culver Duck Farms
Marcus Henley, Hudson Valley Foie Gras
Dr. Jim Jurgielewicz, Joe Jurgielewicz & Sons
Marc Metzer, Metzer Farms
David Pitman, Pitman Farms
Jim Schiltz, Schiltz Foods
Claude Trottier, Brome Lake Duck
North America Commercial Waterfowl Animal Welfare Guidelines for Ducks and Geese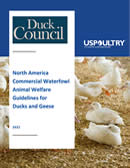 The guidelines establish recommended practices for food safety, animal welfare, environmental stewardship and biosecurity. These guidelines should not be considered a complete animal well-being management tool or reference. The guidelines are intended to be applied across a variety of production systems and scenarios within the industry membership. If you have any questions or comments, please direct them to mspencer@uspoultry.org.
• Free to USPOULTRY Members
• Not Available to Non-Members

Contact Information
1530 Cooledge Road
Tucker, GA 30084-7303
Tel: 770.493.9401
Fax: 770.493.9257
General Info
Events & Meetings
People & Groups
Resources