For Immediate Release
U.S. Poultry & Egg Association
Tucker, Ga. - February 1, 2023
---
Contact:

Gwen Venable, 678.514.1971, gvenable@uspoultry.org, (USPOULTRY)
---
Nan-Dirk Mulder, Keynote Speaker at the USPOULTRY Foundation Executive Luncheon
Nan-Dirk Mulder, senior global specialist animal protein with Rabobank, was the keynote speaker at the USPOULTRY Foundation Executive Luncheon, held during the 2023 International Production & Processing Expo (IPPE). As part of his presentation on "Investing in Global Poultry Markets," Mulder provided an international perspective on capturing future growth after the U.S. industry's golden decade. He asked the question of whether the golden decade can be repeated for the U.S. chicken industry. His response was that the most growth will come again from the domestic market, while export volume will be limited. Mulder commented that domestic focus will shift towards creating more value, such as value-added chicken and chicken products.
From an international perspective, Mulder remarked that chicken (and eggs) will be the fastest growing protein, with 26% more demand in 2031. He said that 90% of global growth will be in emerging markets, with Asia and Latin America in the lead. Mulder noted that fast growth retail and food service in emerging markets will push modernization of value chains, and supply will come increasingly less from trade due to food security and limited trade openings.
Mulder observed that supplying global markets will require an international approach and that U.S. companies have a lot to offer in client relationships, product development and branding. He pointed out that the U.S. has an opportunity to capture global growth opportunities in regions such as Eastern Europe, Southeast Asia, the Middle East and Latin America, and that Africa will be a long-term opportunity. Mulder concluded by discussing the need to focus on (value-added) market leadership, which includes growing with key clients; creating synergy with the current product portfolio; creating synergy in trade or additional trade platforms, establishing cost price leadership; adjusting to the local business climate; and having leading brands.
Sponsored by Rabobank, the Executive Luncheon recognizes the supporters of the successful $11 million capital campaign for the Foundation. The Executive Luncheon provides opportunities for these supporters to meet and learn about the latest Foundation student recruiting activities from Barbara Jenkins, executive director for the USPOULTRY Foundation, and funded research from Dr. Denise Heard, vice president of research for USPOULTRY. The Executive Luncheon also affords an opportunity to interact with several of the FFA students that the USPOULTRY Foundation sponsors to attend IPPE.
###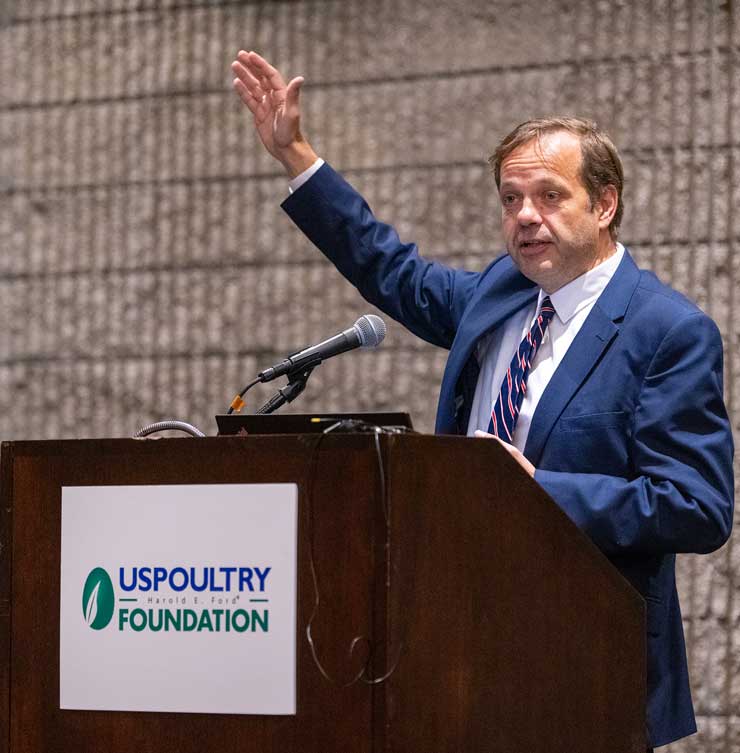 More Recent News

Contact Information
1530 Cooledge Road
Tucker, GA 30084-7303
Tel: 770.493.9401
Fax: 770.493.9257
General Info
Events & Meetings
People & Groups
Resources