For Immediate Release
U.S. Poultry & Egg Association
Tucker, Ga. - October 16, 2023
---
Contact:

Kris Early, 678.514.1979, kearly@uspoultry.org, (USPOULTRY)
---
USPOULTRY's Environmental Management Seminar Focused on Regulatory Updates and Highlighted New Innovations in Sustainability
USPOULTRY's 2023 Environmental Management Seminar focused on regulatory updates and highlighted new innovations in sustainability. Ranging from biological treatment applications, water reuse, emissions, rendering and more, the seminar provided areas of emphasis environmental managers need to have top of mind while managing their environmental programs.
During his regulatory update, Paul Bredwell, USPOULTRY's executive vice president, regulatory programs, gave an update on the latest activities around the Waters of the U.S. Rule and provided attendees with an overview of what could be included in the updated Effluent Limitation Guidelines (ELG) due out in December. He also covered the petition to revise the Clean Water Act regulations for concentrated animal feeding operations (CAFOs), potential reinstatement of Emergency Planning and Community Right-to-Know reporting requirements, the proposed per- and polyfluoroalkyl substances (PFAS) national primary drinking water regulation, and the expiration of the Chemical Facility Anti-Terrorism Standards (CFATS) program.
Dr. Charles Starkey, vice president, regulatory & scientific affairs, North American Renderers Association (NARA), presented an overview of NARA and discussed environmental management concerns for rendering operations. One particular challenge for current environmental managers is how the advancement of science and biotechnology is now allowing for the measurement of quantities to particle levels that have never been achieved. Starkey remarked that in today's world "zero isn't always zero" and questioned how the industry and the government can work together to determine reasonable limitation levels established in guidelines.
Dr. Morgan Teachey, biologist with the Environmental Protection Agency (EPA), offered a comprehensive overview of the process the EPA uses to conduct an ELG analysis. She tied into Bredwell's presentation by sharing some of the things the EPA is looking at as they craft the updated ELG Guidelines and remarked that "all of these proposals are open for comments." Teachey shared that EPA's schedule is to release the proposed guidelines in December and issue the final rule in August of 2025.
Jessica Culbert, regional environmental manager, Koch Foods, discussed biological treatment applications and Koch's process of implementing an out-of-basin membrane bioreactor (MBR) system for wastewater. She walked attendees through an overview of how the system operates and shared Koch's initial results.
USPOULTRY's annual Clean Water Award winners were also announced during the seminar. The award is presented annually to poultry facilities that excel in their commitment to treat wastewater to standards that meet and often exceed their permit requirements, identify water reuse opportunities and implement initiatives to advance overall sustainability of the facility. Awards are given in two categories, full treatment and pretreatment. This year, Wayne-Sanderson Farms' broiler processing facility in Tyler, Texas was selected the winner in the full treatment category, and Tyson Foods' par-fry facility in Russellville, Ark. was selected as the winner in the pretreatment category. Honorable mention with distinction awards in the full treatment category were presented to Keystone Foods in Albany, Ky. and Tyson Foods in Union City, Tenn. Tyson Foods in North Little Rock, Ark. was recognized with an honorable mention with distinction award in the pretreatment category.
Photo Caption: Jessica Culbert, regional environmental manager, Koch Foods, speaking at the 2023 USPOULTRY Environmental Management Seminar in Destin, Fla.
###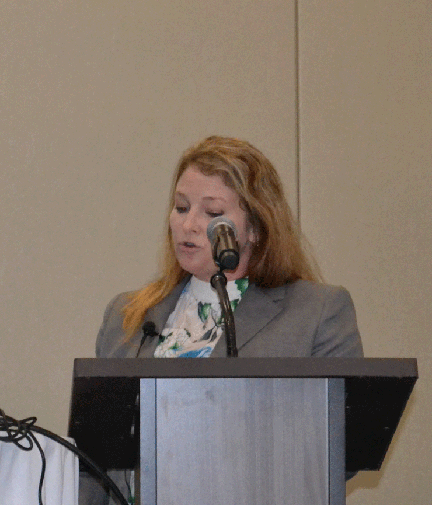 More Recent News

Contact Information
1530 Cooledge Road
Tucker, GA 30084-7303
Tel: 770.493.9401
Fax: 770.493.9257
General Info
Events & Meetings
People & Groups
Resources