For Immediate Release
U.S. Poultry & Egg Association
Tucker, Ga. - January 23, 2023
---
Contact:

Gwen Venable, 678.514.1971, gvenable@uspoultry.org, (USPOULTRY)
---
USPOULTRY Recognizes Greg Hinton as Industry Workhorse of the Year
Greg Hinton, vice president of sales for Rose Acre Farms, was named USPOULTRY's Workhorse of the Year during the International Poultry Expo, part of the 2023 International Production & Processing Expo. The poultry industry's most prestigious honor is awarded annually in recognition of dedicated service and valuable leadership given to the Association and poultry industry.
Hinton was "collared" with the long-established horse collar by 2022 Workhorse of the Year recipient Jerry Moye, member of the international advisory board at Hendrix Genetics and past USPOULTRY chairman. He was also presented with a commemorative plaque.
"We are honored to acknowledge Greg with this special award and recognize his numerous contributions to the poultry and egg industry. We are deeply appreciative of his efforts on behalf of the Association, the USPOULTRY Foundation and the industry," remarked Mike Levengood, vice president, Chief Animal Care Officer and Farmer Relationship Advocate for Perdue Farms, and outgoing USPOULTRY chairman.
Hinton attended Indiana University-Purdue University Indianapolis (IUPUI). He has served the poultry industry in various capacities on boards and committees, including the Indiana State Egg Board, USA Poultry & Egg Export Council, International Egg Commission, United Egg Producers, Indiana Farm Bureau and the American Farm Bureau. Hinton serves on the Executive Committee and Long-Range Planning Committee for Rose Acre Farms and has been with the company for 40 years.
Throughout his time in the poultry industry, Hinton has been active in USPOULTRY. He is a past chairman of USPOULTRY, having served two years as chairman due to COVID, and has been on the board for 13 years. He has also served as the USPOULTRY Foundation chairman.
"Through his volunteerism, Greg is one of those individuals that has had not only a tremendous impact on USPOULTRY and our Foundation, but the industry as a whole. We are most grateful for his leadership, his passion to serve the industry and his friendship," said John Starkey, president of USPOULTRY.
###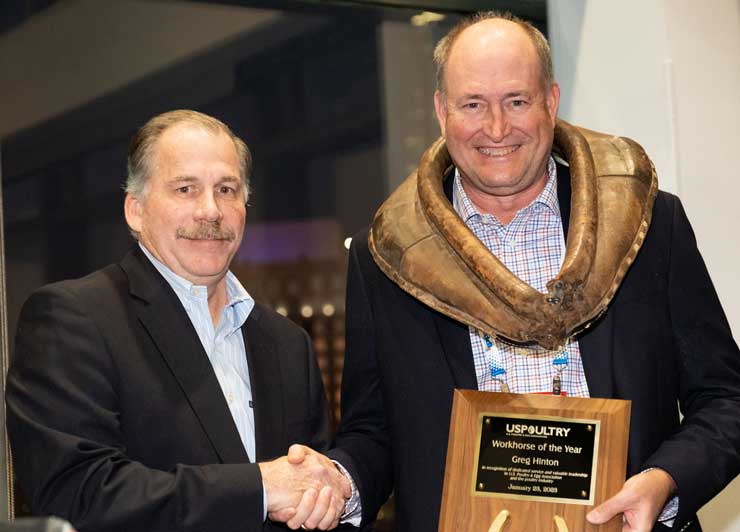 More Recent News

Contact Information
1530 Cooledge Road
Tucker, GA 30084-7303
Tel: 770.493.9401
Fax: 770.493.9257
General Info
Events & Meetings
People & Groups
Resources