For Immediate Release
U.S. Poultry & Egg Association
Tucker, Ga. - August 17, 2023
---
Contact:

Kris Early, 678.514.1979, kearly@uspoultry.org, (USPOULTRY)
---
2023 USPOULTRY Environmental Management Seminar Will Focus on Regulatory Updates, New Innovations in Sustainability and the Announcement of the 2023 Clean Water Award Winners
Water quality, wastewater, air emissions, sustainability and regulatory compliance are all issues that poultry and egg industry environmental managers face daily. USPOULTRY's 2023 Environmental Management Seminar is a great way to stay up to date on these ever-changing challenges. The 2023 Clean Water Award winners will also be announced with a virtual tour of the winner's facilities. The Seminar will be held Sept. 28-29 at the Hilton Sandestin Beach Golf Resort & Spa in Destin, Fla.
"Protecting the environment continues to be a key concern of our industry. This seminar is a valuable learning opportunity to help your company contribute to a quality environment while maintaining strong and efficient operations," noted planning committee chair, Bill Knapke, environmental manager for Cooper Farms.
The program was developed by industry environmental leaders and will include a Washington Review; Regulatory Update; Rendering Industry Update . . . What's Coming Down the Pike for Environmental Managers; ELG Update; Facility Acquisition Environmental Review; a Legal Update; A Circular Approach to RNG and CO2 Capture; Biological Pretreatment Application; New Technology in Zero Landfill, and more.
Members of the planning committee include Michele Boney, West Liberty Foods; Jonathan Green, Perdue Farms; Warren Howe, Woodruff & Howe Environmental Engineering, Inc.; Dr. Brian Kiepper, University of Georgia, Bill Knapke, Cooper Farms, and program committee chair; Wes Spray, Rose Acre Farms Inc; and Alexander Sullivan, Fieldale Farms Corporation.
To learn more and register for the 2023 USPOULTRY Environmental Management Seminar, click here or visit uspoultry.org.
###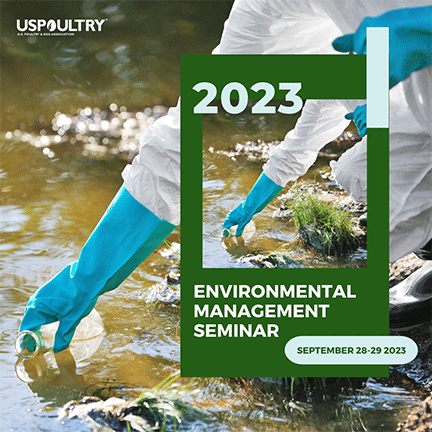 More Recent News

Contact Information
1530 Cooledge Road
Tucker, GA 30084-7303
Tel: 770.493.9401
Fax: 770.493.9257
General Info
Events & Meetings
People & Groups
Resources