Antimicrobial Use Within U.S. Poultry Production
U.S. Poultry & Egg Association announces the release of the U.S. poultry industry's first-ever report quantifying antimicrobial use on broiler chicken and turkey farms. The new report shows dramatic reductions of turkey and broiler chicken antimicrobial use over a five-year timeframe. As part of its commitment to the transparency and sustainability of a safe food supply, the poultry industry aims to strike a balance between keeping poultry flocks healthy and the responsible use of antimicrobials, especially those medically important to human health.
What Is the Antimicrobial Use Within U.S. Poultry Production Report?
Under the research direction of Dr. Randall Singer, DVM, PhD, of Mindwalk Consulting Group, LLC, this report represents a five-year set of data collected from 2013 to 2017 regarding the use of antimicrobials in U.S. broiler chickens and turkeys throughout their lifetime, from hatchery to day of harvest. It was prepared through a systematic collection of on-farm antimicrobial use data to capture the disease indications and routes of administration through which antimicrobials were given to the poultry.
Infographic Report
Version
File Size
File Type
Create Date
2019
2.1 Kb
PDF
August 5, 2019
Download
To view Dr. Randall Singer's 2013-2017 executive summary and full report on antimicrobial use in the U.S. poultry industry:

Executive Summary

Download

Full Report

Download
For additional information, including downloadable figures from Dr. Singer's report, please go to the Mindwalk Consulting Group website.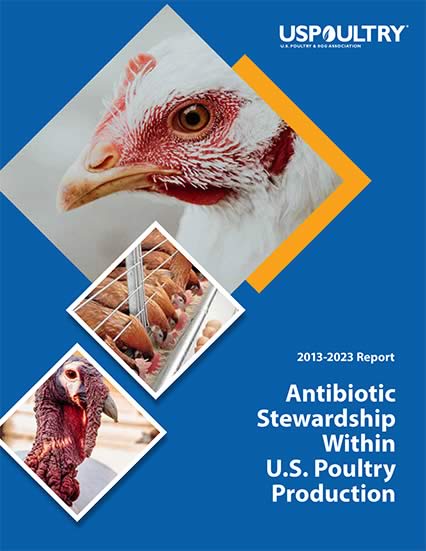 Contact Information
1530 Cooledge Road
Tucker, GA 30084-7303
Tel: 770.493.9401
Fax: 770.493.9257
General Info
Events & Meetings
People & Groups
Resources